Katie Doherty from The International Meat Trade Association was one of 14 judges for the 2016 World Steak Challenge. The competition began in 2015 and the number of entries grew in 2016 with more than 80 steaks entered from 16 countries worldwide. A steak entered by Albers GMBH and produced by Jacks Creek Australia won for the second year running! 3 Australian producers received gold medals, 1 Polish producer, 2 Northern Irish, 2 Scottish and 1 Welsh. A full list of medalists can be found here on the World Steak Challenge website.
On 16th June IMTA was welcomed to the port of London Gateway for a presentation on the port and a tour of the facilities. In attendance were over 20 IMTA members from a range of companies and Katie and Katrina of the IMTA secretariat. The group was hosted by DP World. It was a timely opportunity to hear more about the coming SOLAS Container Weighing arrangements. You can see here more information about DP World's plan for container weighing from 1st July onwards. The group also did a tour of the Border Inspection Post accompanied by officials from the Port Health Authority.
On Thursday 9th June Katie and Katrina of the IMTA Secretariat visited the Port of Liverpool. Among the group visiting were several representatives of Weddel Swift, including Mark Murphy IMTA's Logistics Director.
The group was met by Mike Dwan, Sales Manager at Peel Ports (Mersey Cluster) who gave a very interesting presentation about the Port of Liverpool and the soon to be operational new terminal 2. He then took the group on a tour of the port, including a visit to port health. Then the group was taken to the top of a grain silo to take in the panoramic view of the port and Liverpool.
Many thanks to the organisers at Peel Ports and Weddel Swift for an extremely educational and interesting trip.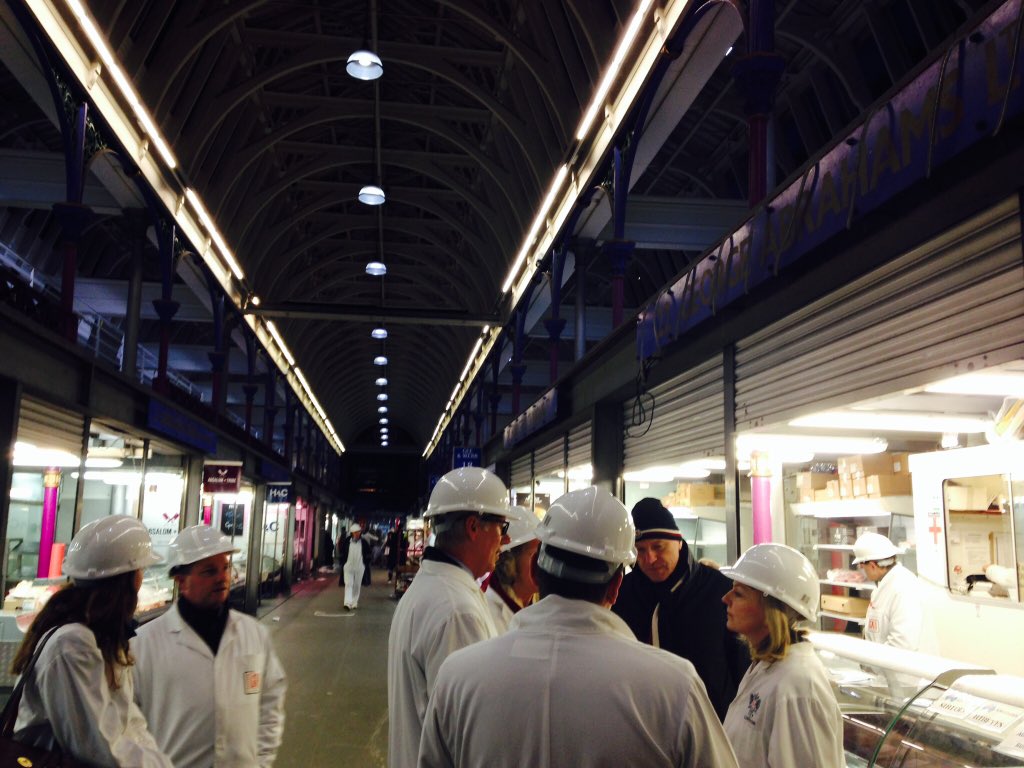 The Secretary of State for Defra Liz Truss joined IMTA for a tour of Smithfield market followed by breakfast at Birds where trade and increasing British exports were discussed.
http://www.meatinfo.co.uk/news/fullstory.php/aid/19213/Environment_Secretary_commits_to_exploring_new_markets_for_British_meat.html
IMTA members were hosted by DP World Southampton for a visit to the Border Inspection Post to meet the vets, see their BIP facility and tour the port.
Attendees were able to see how the vets approach a consignment, what they are looking for and how they take samples. Rob Freeman from DP World gave IMTA attendees a presentation about the latest changes at the port.
In March 2015 Douglas Brydges retired as President of the International Meat Trade Association after 26 years. As a thank you for all his hard work for the association the IMTA Board presented Doug with a cheque towards his dream cruise across the Atlantic from the UK to Florida. In November Doug and his wife Judy sailed across the Atlantic!
On 24th November we held our third annual IMTA Forum.
As with previous years, the aim of the event was to address key issues affecting members and to promote free and frank discussion between members and external bodies including departments of the UK Government. This was especially important as the primary objective of this year's event was to explore how industry and government could more effectively work together to support international trade.
Subjects covered at the Forum included the potential for a free trade agreement between the EU and Australia, the progress of the Transatlantic Trade & Investment Partnership (TTIP) negotiations with the United States, EU approaches to increasing export market access for European meat, an update from The Food Standards Agency and an update on projects and initiatives to combat and prevent food fraud and food crime.
We would like to thank all those who presented at the Forum:
Russell Phillips, Minister Counsellor, Australian Embassy (EU)
Stan Phillips, Agricultural Counsellor for the UK and Ireland, US Embassy
Andy Morling, FSA Head of Food Crime
Professor Chris Elliott, Queens University Belfast
Mike Glavin, Head of Imports/Exports Policy, Food Standards Agency
Jean-Luc Meriaux, Secretary General, UECBV
Our thanks also to our five Associate Members, who sponsored the Forum:
Meat & Livestock Australia - Marketing, research and development for Australian meat producers
Bannerman Rendell - Insurance Brokers
 Beef + Lamb New Zealand Ltd - Representing the New Zealand beef and lamb producers
Premier Freight - Freight forwarding specialists, transport arrange with own trucks, customs formalities for both Frozen & chilled.
Thermotraffic - Freight forwarding: transportation and clearance of chilled and frozen meat products
On 25th September 2015 IMTA visited the Border Inspection Post (BIP) at London Heathrow to find out more about the procedures for imports arriving by air.
Heathrow has recently extended and re-organised its Border Inspection facilities so that POAOs (Products of Animal Origin) intended for human consumption and POAOs not intended for human consumption (for example pet food), which were previously examined at different sites, are now handled at the same site, allowing for quicker and more efficient turnaround. Careful separation is maintained to avoid cross-contamination.
The advantages that electronic documentation would offer were discussed particularly with regard to air-freighted products and the occasional incidents of lost veterinary certificates between the carrier and the veterinary office.
We would like to thank Miguel Patricio from the Heathrow BIP, who arranged the IMTA visit and who proved a most excellent guide.